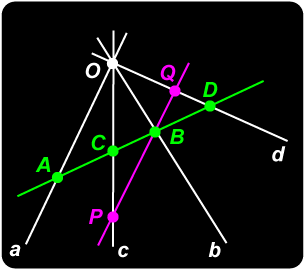 A possible converse?
Using the adjacent diagram we have hown that the value of the cross ratio

(A, B; C, D) is independent of the position of the transversal. We can prove an important partial converse result. Use this diagram.

Theorem 6.2 If A, B, C, D and A, B', C', D' are two sets of collinear points on lines meeting in A, and

(A, B; C, D) =

(A, B'; C', D'), then BB', CC' and DD' are concurrent in some point O. That is, we have two transversals of a pencil of lines.
Proof Let BB' and CC' meet in point O, and let OD meet line AB'C' in D".

Now

(A, B'; C', D") =

(A, B; C, D) (property of the pencil)
=

(A, B'; C', D') (given).

We conclude that D" = D'

, so O, D and D' are collinear as required. This completes the proof of the theorem.